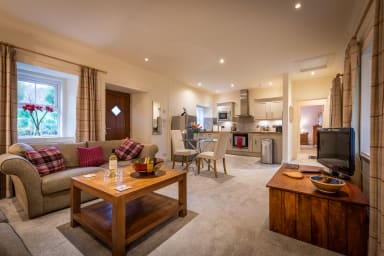 "Lochsie", a beautifully presented cosy base from which to explore all the Isle of Skye has to offer. Just outside the main town of Portree boastin...
"Lochsie"
This is well equipped, high end accommodation. A place for those who's time out and creature comforts are important to them.
The kitchen, dining area and living room are open plan, allowing a feeling of space where you can enjoy your complimentary bottle of wine. You are on holiday after all!
The large bathroom has both a bath and seperate shower. You will find a selection of toiletries by Aaran Aromatics, a local boutique company. Feel free to take the "minature" bottles home with you.
A kingsize bed awaits you in the relaxing bedroom, furnished with solid light oak drawers, bedside tables and wardrobe where you will find a toweling robe each.
But enough of the facts, we thought that we would let those who had stayed before you share their impressions:
" The decor was modern and reflected the location, it was so nice in comparisson to other cottages we had stayed in. I felt I was staying in someone's home."
"Well equipped and furnished beautifully"
"We spent everyday out while late walking and climbing but no matter how wet or windy it got, the knowledge we had a real home from home to come back to was a genuine comfort"
" A great base for exploring the island"
"My wife struggles to sleep in strange beds, but the mattress here was a delight and the bedding fantastically clean"
"The huge bathroom was fantastic and the shower really hot and powerful, essential after a long day"
We would be delighted to welcome you here.
+ More
Less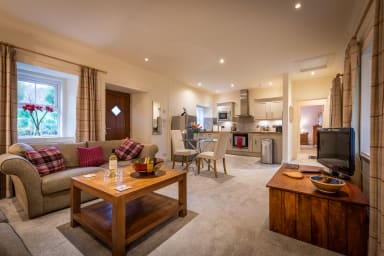 The Space
Accommodates: 2
Bedrooms: 1
Bathrooms: 1
Property Type: Apartment
Check-in: 16:00
Check-out: 10:00
---
Amenities
Long Term Rentals Available

Suitable for children (2+ years old)

Suitable for infants (under 2 years)
Reviews
Sumant D.

A perfect stay

Lochsie cottage is truly a perfect accommodation for anyone travelling to Portree or beyond. We stayed for 2 nights but wish we could have stayed more. Very comfortable in terms of space and amenities, and easily accessible from the main highway. Sparkling clean.

January 2020

---

Emilie W.

Review

Beautiful location clean stylish cottage with everything you need Good privacy and friendly owner

February 2020

---

Ruth F.

Mrs

Was a beautiful cottage, clean and very well decorated good location would definitely stay again

February 2020

---

Gillian P. (

United Kingdom

)

February Holiday

The cottage is very homely and spotlessly clean. It was a lovely, peaceful break and Lochsie was the perfect base, just a short drive to Portree. We really enjoyed our stay and would love to return in the future. Would highly recommend!!

February 2020

---

Excellent cottage

We had a great time here and felt very welcome. The kitchen was great, the living room perfect to relax, nice bedroom and huge bathroom. Everything was perfectly clean. It's a good starting point for exploring Skye if you have a car, Portree and a big supermarket are also pretty close. I'd definitely come here again, the cottage is just lovely.

March 2020

---

FIONA H. (

United Kingdom

)

Cosy beautiful cottage

Completely loved our stay at Lochsie cottage. Great location near to Portree centre, excellent amneties and very clean. Communication was great too. Self check in and out was easy.. would highly recommend.

July 2020

---

Alison M.

Excellent stay

Lochsie Cottage was perfect for our stay in Skye. The cottage is spacious, modern and spotless. Loved having the open plan kitchen / lounge and it was equipped with everything we needed. It's a lovely setting and it's nice having a table and chair outside for when the sun is shining. Ben made us feel very welcome. Only a 5 minute drive from Portree and a great central location for accessing all the main attractions on Skye.

July 2020

---

Sreekumar M. (

United Kingdom

)

Beautiful Cottage in a great location

+Amenities +Spacious Location +Comfortable bed +Cleanliness +Birds in the garden +Welcome bottle of wine +Great collection of movies and books -I would recommend changing the front door lock as it can be a bit iffy.

August 2020

---

Mahesh N. (

United Kingdom

)

A wonderful cottage! Peaceful & Tranquil!

We've stayed here for 4 nights & I can say without hesitation that this place ranks quite in my top 10! Plenty of communications prior to our arrival, easy to follow instructions on arrival. A bottle of wine awaited us, the cottage was nice & "toasty", plenty of Room for the two us, spacious bedroom, very spacious bathroom & toilet & a generous living/kitchen area. Kitchen is fully equipped with everything you might need. Clean rooms, neutral decor. Really quiet & peaceful place. Ben, the manager was very helpful & communicated quite promptly! A little issue with the door got sorted on a Sunday evening at 18.00 hrs despite us saying it'd suffice if it was sorted after we'd left! Just one complaint from me! They didn't have a "midge exclusion zone"!! (Just kidding!)

August 2020

---

Relaxing stay at cosy Lochsie cottage

Enjoyable stay on the beautiful Isle of Skye

September 2020

---

RACHEL B. (

United Kingdom

)

Holidaymaker

Lovely cottage with everything you could need. Very comfy bed! We will stay for longer next time!

September 2020

---

Melissa D. (

United Kingdom

)

Weekend away

Fantastic stay. Highly recommend, Cosy and clean, great facilities, lovely hot shower, comfy bed and great location. Thank you!

December 2020

---

John K.

A tranquil, well kitted-out stay in Portree

Peinmore House was exactly what we needed - a five minute drive to civilisation (Portree) with all the features and facilities we needed for those days where we wanted to stay in and do nothing. It's so quiet here that we could sleep without ear plugs, a novelty for folks like us hailing from Manchester. The timeless decor was lovely, and on good-weather days, you can make use of the courtyard outside for breakfast. The WiFi was a blessing, given how patchy mobile signal can be in Skye, and the bed in our cottage is one of the most comfortable I've ever slept on. Peinmore House gets my heartfelt recommendation, an easy 5-stars.

June 2021

---

Jacqueline A. (

United Kingdom

)

Great trip to Skye

Lochsie Cottage was the perfect place to stay. Great location and it was very comfortable. Everything we needed was there. Clear arrival and departure instructions and good communication links to accommodation provider if anything went wrong. Would definitely stay here again.

July 2021

---

Xinyi Z.

Xinyi

The cottage is very well-equipped and we had a lovely stay here. It is a perfect place for a family with a baby. They provided a high chair and a travel cot. Don is very nice to talk to and very helpful.

July 2021

---

Lynn H. ()

Lynn.

Loved this place so much we asked to stay an extra night. Very well presented and in a great location. Ben was very helpful and we were recommended a lovely walk near by with amazing views...up Ben Tianaveige...

September 2021

---

Jen D.

Excellent stay

We loved our stay at Lochsie cottage, well equipped, comfortable stay, and an excellent base for exploring Skye. Wouldn't think twice to book again.

October 2021

---

Reka G.

Comfortable, welcoming and scenic

We had a lovely stay in a very well-equipped, comfortable cottage with beautiful scenery and quite, calm surroundings.

November 2021

---

GENGJIAN H. (

United Kingdom

)

Mr Hu

The advanced kitchen and warming living room was awesome, housekeepers are nice and hospitable. More importantly, reply message very quick especially when u have emergency.

December 2021

---

Calum W. (

United Kingdom

)

Mr and Miss

Excellent cottage wonderful location so beautiful at night for the stars and the accommodation was 10/10. Would haughty recommend to anyone visiting Skye!

January 2022

---

Gillian K. (

United Kingdom

)

Lochsie Cottage stay

Beautiful cottage and lovely surroundings. Cozy and warm. Bottle of wine on arrival was a nice touch. Would highly recommend.

March 2022

---

Garry M. (

United Kingdom

)

Skye Visit

Nice cottage inside, no need to bring anything, front door rattles in the wind though, also the lock is very close to the door knob and it's really awkward to try and turn, you also need to pull the door towards you a bit when locking/unlocking, one other thing to note, WiFi is non existent, there's a 4g router in the living room but as you can hardly get a mobile signal it's next to useless, we brought our firestick so we could watch Netflix but it just constantly buffered so gave up

March 2022

---

Matthew J.

Excellent stay

Excellent place to be based on Skye. Everything needed close by in Portree inc. nice restaurants / bars. Very comfortable with everything needed. Great to return to from a day out / hide from the weather!

March 2022

---

Greet V.

Great!

Great cottage with everything you might need!

April 2022

---

Anthony T. (

United Kingdom

)

Mainly very good

We enjoyed our stay and consider the property excellent, but with one or two minor grumbles. The WiFi needs improvement. All very on off, working then not working. The "Your Welcome" tablet didn't work. When we arrived it was plugged in to the sockets to the left of the TV. So we ignored it. We worked out just prior to departure that you need to double push a plug into those two sockets before a connection to power is made. End of grumbles!

April 2022

---

lindsay h. (

United Kingdom

)

Lindsay Hill

Wonderful place, beautifully presented, clean and comfortable. Hope to return.

April 2022

---

Colleen H. (

United States

)

The most adorable cottage

Our stay was fabulous, we only wish it could've been longer. The cottage is adorable and a great location for a quick drive into Portree Harbour. We hope to come again in the future!

May 2022

---

Well appointed, peaceful spacious home

We were thrilled with our stay at this spacious well-equipped cottage! The birdfeeder outside our window sets such a peaceful atmosphere along with it's distance from all other establishments. We requested help with use of the VCR and reported needing a mat to feel safe in the shower and the needs were met in less than a half hour. Great service.

May 2022

---

Very nice accommodations!

Went above and beyond to make our stay memorable. Thanks to Ben for all his help.

May 2022

---

Elizabeth S. (

United Kingdom

)

Lovely cottage on Skye

Lochsie Cottage is ideally situated close to Portree. It is very well equipped and the decor and furnishings are great - everything is as described and it was very clean. There is an attractive garden to sit in too.

June 2022

---

Bethan R. (

United Kingdom

)

Mrs Holden

Fantastic stay. Everyone was so welcoming and friendly and were more than happy to help us out when the lock on the door broke. Would definitely stay here again

August 2022

---

Elisabeth P. (

United States

)

Beautiful and comfortable home away from home

We thoroughly enjoyed our stay with you for three nights when we visited Skye! The cottage was clean, quiet, and had all the comforts of home to make our visit wonderful and relaxing! We appreciate your care, and would love to visit again! - the Pearmans from Nashville

August 2022

---
Show more