Overlooking kilt Rock, set on the side of the inland Loch Mealt, this is an exceptional property. A completely restored, unique property even for...
A 2 bedroom, completely restored property on the shore of Loch Mealt.
This has been a labour of love for those involved in the project.
Unique in Skye. In a great place to see the Aurora Borealis if it is active.

Fully equipped kitchen:
Washer dryer, dishwasher, oven, hob, fully integrated fridge freezer and much more including a working fire place.
Delightful views from both bedrooms and the bathroom over the loch to Kilt Rock viewpoint.
A short distance from the Quiraing and just north of the Old Man of Storr, an ideal quiet place from which to explore Skye.
A great place for families, romantic getaways, escapism!
Not to be missed!
+ More
Less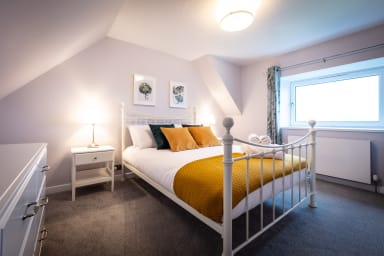 Mountain, Sea Views, & Natural Landscape
Coat hanger & Ironing board
The Space
Accommodates: 4
Bedrooms: 2
Bathrooms: 2
Property Type: Apartment
Check-in: 16:00
Check-out: 10:00
---
Amenities
Suitable for children (2+ years old)

Suitable for infants (under 2 years)
Reviews
Fantastic place

We loved our stay at Lochside. It had everything we needed to make our visit comfortable, easy and memorable. Thank you so much!!

January 2020

---

Louise M.

Amazing!

Everything from booking to check out (and waving bye to the house) was really smooth! The property itself is spectacular and the views from every window in the house takes your breath away. I forgot how many photos I took just of the Loch in the morning or late evening. The rooms are cosy, the facilities are excellent and the wine on arrival made it feel like a special weekend. We're already looking to book up again this year! I guarantee anyone who stays here will NOT be disappointed.

March 2020

---

Akshay R. (

United Kingdom

)

Lochside Homestay

Spectacular location on the river side and a warm setup inside the Homestay. It's the best location near Portree and close to the sea. The property has great facilities which makes the stay easy and smooth.

March 2020

---

Angela C. (

United Kingdom

)

Work

This property was fantastic

July 2020

---

Paolo D. (

United Kingdom

)

Fantastic location

Perfect location to visit some of the best attractions of the island: Quiraing, old man of Storr, Jurassic coast. The cottage is very well equipped with a surprisingly good WiFi. Every room with a beautiful view of the Loch.

July 2020

---

Gary F. ()

Simply Amazing

We stayed here for a week and were simply blown away. Lochside is a great property to stay in. Everything that you would need for a week self catering (not including your food and drink) were provided. The views from Just about every windows are amazing. The property is warm. The Sofa and chairs are so comfortable as are the beds. The bath and the view from the window are simply amazing. The toiletries smell great (we have already bought some on our way home). It's very well situated for exploring the north end of the island. We did a bit of walking and a lot of driving but we loved every minute of being here.

September 2020

---

Clare M. (

United Kingdom

)

Mrs

Amazing house with amazing views

October 2020

---

Emma G.

Great cottage with a wonderful view

We hadn't originally booked lochside, however due to an unfortunately double booking, we were offered it as an alternative. The cottage is amazing - quiet with a lovely view of the loch an local sheep/lambs. Ben and his team were so helpful and everything was in order for our stay. we only wish we could have stayed longer.

May 2021

---

David M.

Brilliant House and holiday

Lochside is a very well appointed house, in a stunning location. Very private and has tremendous views. The house was very clean on arrival. In fact very helpfully we received a text to let us know that the house was ready for us ....one hour earlier than stated. Ben, who manages the renting of the house was very professional, personable and promptly responsive to our communications with him. Our stay in Lochside contributed to a fantastic holiday on Skye. D&P MacD June 2021

June 2021

---

Teegan L.

Fantastic stay

We had a lovely stay at Lochside. It was even nicer than the pictures. Light, airy, comfortable with gorgeous views of the Loch and surrounding mountains. We would definitely recommend this place to others and would absolutely stay here again.

June 2021

---

Lochside

A beautiful location in a great area to explore beautiful Skye. The house is lovely and the manager was very quick to resolve a couple of issues.

August 2021

---

Lochside

Awesome scenery, the house was a little difficult to find but we did arrive after dark, which we weren't expecting to do. About 16 miles back into Portree which is a nice village where the Arona cafe is definitely worth a visit for breakfast / coffee. The roads get a little dicey if you head north of staffin but an adventure

September 2021

---

Gary F. ()

An amazing week at Lochside

This was our second time at Lochside in as many years and it was even better than the first time. The property was really clean and tidy when we arrived. The weather was very good and the views are simply stunning (i could stare out at the loch all day and night) Ben and his team are fab. We were informed before we arrived of a small issue and it was dealt with in good time without any disruption. What really topped this stay was that half way through our stay i got an alert on my phone that the Aurora may be visible, so we rushed outside (in shorts and a tee shirt) and sure enough we got some stunning pictures of the aurora (it was also visible with the naked eye). It was absolutley amazing to see. We will be back here in the future i can guarantee it.

September 2021

---

Beautiful Home!

We loved our stay at Lochside. The home had everything we needed and it was so beautifully decorated. We loved the view and the quiet of the loch and it was the perfect place to explore Skye from. Ben was so helpful and we had got all our questions answered! We would highly recommend.

September 2021

---
Show more