Tigh Bata is located on the waterfront in the very popular Waternish peninsula.You will be in touch with nature here that is for sure.
A unique experience even here on Skye.
Central heating, wood burner, spacious open plan living and cooking area.
Sea front location
Balconies on both ground and first floors
4 bedrooms, 1 ensuite, 3 washing rooms total, laundry room, separate children's lounge so you can relax!
Internet, gas oven and hob.
3.5 km drive to the only Michelin star restaurant on Skye, Loch Bay
Local pub at Stein, the Stein Inn, the oldest pub on Skye.
+ More
Less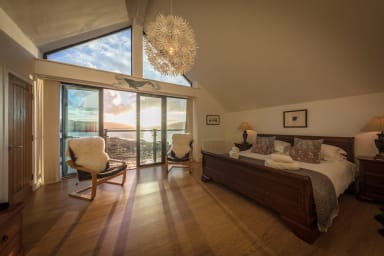 Bedroom with amazing views
Bedroom with spectacular views
Mountain & Sea Views from balcony
Cozy living room with fireplace & incredible views
Living room & Dining area
Natural landscape, amazing location
Tigh Bata, House on the sea
Tigh Bata, House on the sea
The Space
Accommodates: 8
Bedrooms: 4
Bathrooms: 3
Property Type: Holiday Home
Check-in: 16:00
Check-out: 10:00
---
Amenities
Suitable for children (2+ years old)

Suitable for infants (under 2 years)
Reviews
Elizabeth L. (

United Kingdom

)

New Year 2019

Great space for our family get away for New Year, house is just as detailed in photos, view over Loch is 😉 amazing, facilities good. We enjoyed the peace and quiet

January 2020

---

Ida M.

Unique and peaceful

Beautiful home in a wonderful location. It felt nice to come back to a cosy house after exploring the island. Thank you!

January 2020

---

Paulina M.

Mr & Mrs Straugheir

Amazing place... superb accommodation, spectacular views. Staff extremely helpful and we couldn't be more happy we chose it for our wedding. Thank you all for helping us make it happen at the last minute. We are coming back this year as we all had a fabulous time. :) One slight downside was the fridge - very small for a house where 8 people can stay and shops are 40 mins away :) Highly recommended place and we can't wait to be back :)

July 2020

---

Arafat H. (

United Kingdom

)

Arafat Hossain

It has been an excellent experience of staying at Tigh Bata. The atmosphere has been so relaxing. They deserve 10 out of 10.

July 2020

---

Lesley M. (

United Kingdom

)

Amazing stay

Stunning accommodation in a beautiful setting. So peaceful and perfect trip

August 2020

---

alison h. (

United Kingdom

)

Alison Hands

Fantastic house, amazing location and the best chill out place ever

September 2020

---

Steven L. (

United Kingdom

)

Anniversary Trip

With our Greek island trip cancelled we needed an alternative wedding anniversary location. We weren't disappointed. The photos on booking.com showed a picturesque house right on the beach with privacy in a modern, comfortable house. Exactly as advertised! Kitchen has everything you need, all facilities were great and internet was strong enough to stream Netflix ( highly recommend bringing a laptop to HDMI into the telly, standard channels only on the Freeview) . If you forget to shop then Portree is a good 25 minute drive to the East but has a large co-op but Dunvegan (15 mins South) has plenty of small shops and a pubs and restaurants. If you want to get away from the current madness and watch birds dive into the sea from the comfort of your own balcony then 100% this is for you.

September 2020

---

Paul M. ()

Kevin Miskella (Under the Name of Paul Mason)

Very lovely property in a great location, suited our needs perfectly thank you !

October 2020

---

Jeanne M.

The perfect place to stay on the island

Comfortable, well equipped, stylish, with amazing view in a quiet area, the house has everything you wish for on the island.

October 2020

---

Rachel H.

Great place

The property is beyond anything. The location is magical. It was perfect. Beds comfy. Showers powerful. Superb kitchen. And a wood burner for the cold nights. Perfect.

November 2020

---

Richard C. ()

Superb

This is the best Airbnb we have ever stayed in. Fantastic.

June 2021

---

Possibly the most relaxing holiday we've ever had

...and there were 7 of us! Amazing views and excellent accommodation. Wish we could have stayed longer!

July 2021

---

Minnie L. ()

Ms Minnie Lau

Stunning view from the moment you wake til sunset. The house is beautifully decorated and allows you to appreciate the land/sea/sky-scape of Skye. A lot of beautiful places to explore in the area. Plenty of bathroom/shower/toilets for a big group. I would highly recommend this place to anyone.

August 2021

---

Geraldine W. (

United Kingdom

)

Mrs G Woods

Excellent stay ,family holiday for my birthday ,house beautiful and scenery amazing the only down fall ran out of logs for the fire after second day

October 2021

---

Paul M. ()

The usual excellent service

Just returned from Skye and we had a superb week. The house (Tigh Bata) was stunning and very comfortable. All made easy in terms of booking, check in / out and a minor issue with the dishwasher (machine not me!) was dealt with immediately by Ben. In these challenging times, holidays are even more precious so making things simple and efficient is appreciated so without reservation (excuse the pun!) I / we recommend Skye Serviced Accommodation. Ben, John and the team will look after you.

December 2021

---

bridget l. (

United States

)

Skye Getaway

What a perfect 4 days on Skye. Tigh Bata was beautiful. Couldn't wait to wake up each day and take in the amazing views from every room in the house! Such a homely and warm home. Also the large laundry room is a huge plus!

March 2022

---

Ulla D.

Fantastisk house

Fantastic house Lovely contry Everything was perfect!

April 2022

---

Oriana W. (

United Kingdom

)

Wild and windy

This is a rugged and windswept location! We had a strong wind our first night and it was loud! When it died back a bit it was easier to sleep well. The house is comfortable and warm. The kitchen is well appointed. The woodburner is great and there was plenty of wood. We were a group of 4 couples and the small twin room was definitely the short straw but no complaints. Beds are comfy. There were issues with the patio doors not opening but the weather was wet so we were not too affected. It's a good base to explore the north of Skye and we enjoyed our time there.

June 2022

---

Alexandra B. ()

Loved the place and its setting

Very nice setting for walks in the surounding area or just to relax on the lovely decking and just be. All worked really well and we had an amazing time with the family. All cooking amenities were there and in great condition (which is not always the case in a rental place). would highly recommend!

June 2022

---

Tigh Bata Stay - June 2022

We had a wonderful experience at the house. A perfect location far off the beaten path. Great pictures along the coast and incredible sunsets.

July 2022

---
Show more