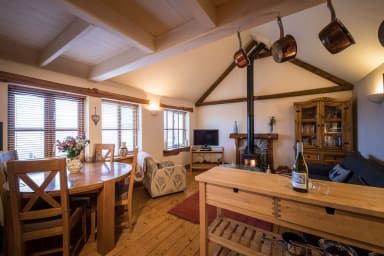 The Lodge is our most popular destination all year round. A wooden chalet with a woodburner at the end of the living room, ideal for a romantic get...
The Lodge was built by a local crofter in about 2006. The location was chosen as it is one of the most delightful on Skye for views and peace.
Brother's point is a local beauty spot, on a clear day you can see across to the mainland across the sea and on a good day about 50-70 miles into the mountains.
This is a great place to come as a couple, the living room is open plan to the kitchen and dining area with comfortable furniture and a woodburning stove at the end of the room.
The kitchen is fully equipped with wooden work surfaces, washing and drying machine, dishwasher utensils etc.
Equipped with free Wifi, sky TV, linen and sheets you won't want for very much when you get here. Well, maybe some more time to stay and enjoy it!
The Lodge offers a certain something that makes people come back again and again.Perhaps it is the views, location, cosiness, quality throughout, who knows. We love it and are sure you will too.
Pet Friendly - Pets are allowed in this property but they will be charged at £10 per night per pet to a maximum of 3 pets. We kindly ask if you can keep your pet off the furniture and beds for the duration of your stay. Must be crated or kenneled if left unattended, and must be on a current veterinarian approved flea & tick treatment.
+ More
Less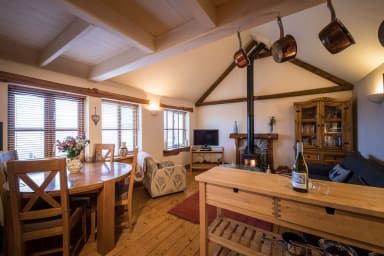 Living room & Dining area
Mountain view, natural landscape
Mountain, Sea Views, & Natural Landscape
The Space
Accommodates: 2
Bedrooms: 1
Bathrooms: 1
Property Type: Apartment
Check-in: 16:00
Check-out: 10:00
---
Amenities
Suitable for children (2+ years old)

Suitable for infants (under 2 years)
Reviews
the perfect hide away

We loved the coziness of the cottage and felt very much at home. Beautiful surroundings, endless view over the fields and to the mountains, 5 minutes walk down to the sea. Great starting point to many hikes. No matter the weather, the wooden stove kept us warm and comfy. We hope to be back!

February 2020

---

Robert K. (

United Kingdom

)

Rob and Barb from Kent

Thank you we had brilliant staying we love your cottage. We couldn't ask for more it was easy to communicate and the views are amazing. Highly recommended.

February 2020

---

Isobel S. (

United Kingdom

)

Lovely Lodge, Stunning Location

We had a wonderful stay at The Lodge. All you could need including a much-used washer/dryer. Temperamental weather but we managed some spectacular walks in between showers. The Lodge is perfect for two with wonderful views from all the windows. We would highly recommend a stay at this lovely location.

March 2020

---

Susanne F. (

United Kingdom

)

Excellent

The cottage was lovely, comfy and very clean. A great location too. An amazing view to wake up to in the morning. Great location. Had an amazing holiday.

August 2020

---

George M. (

United Kingdom

)

Excellent accommodation

Really clean and comfortable lodge. Happy to recommend.

August 2020

---

Edward K.

Ed Keeble

Absolutely fantastic place and perfect location for all things Skye. Incredible views right from the lodge, and super cosy if the weather's bad and you just want a chilled day inside. Check in instructions were clear and everything was covid secure. Just make sure to take it slow on the track down if you have a small car!

November 2020

---

Emily W.

Beautiful location and a lovely, well-equipped property!

The clifftop location is dramatic and absolutely stunning! Views of the Quiraing, out to sea, the Isle of Raasay and beautiful green landscape interspersed with waterfalls. 10min downhill walk to the beach, couldn't be better. The property itself is homely and well-equipped with everything you'll need. It's perfect for a couple and we appreciated being able to bring our dog. The team at Skye Serviced were very helpful and responsive to any issues. We would definitely stay again!

November 2020

---

Lodge at Culnacnoc

Lovely setting, great accommodation.

May 2021

---

Bernard M. (

United Kingdom

)

The Lodge Accommodation

This accommodation was first class. Perfect location with stunning views.

June 2021

---

Kathryn H.

Fantastic Stay

We had a wonderful stay at The Lodge. Over a long weekend this North-west pocket of Skye basked in glorious sunshine with the most incredible views. We enjoyed walking down to Brothers Point each morning and watching the oyster-catchers and admiring the dramatic scenery. The Lodge is so comfortable and well equipped, the large fridge-freezer was a real plus over a hot weekend. Already recommended to family and friends and talked about when we can come back!

June 2021

---

Josh B. ()

Jun 2021 Josh & Caity

We loved our stay. If our schedules allowed and we could have stayed longer, we would have. Beautiful view, spacious lodge with great amenities. It's very high standard accommodation. Would highly recommend!

June 2021

---

Scott P. (

United Kingdom

)

Stay at the lodge

Loved our time at the lodge Culnacroc, so peaceful and stunning views. Awesome interior and fully equipped but it's the small touches that make this place feel truly homely to many to mention but when you get there you will understand this. My only regret is that we never booked it for a bit longer.

July 2021

---

RAYMOND M. (

United Kingdom

)

Raymond McCruden

Fabulous Lodge. Excellent facilities Excellent staff 👍👏

July 2021

---

Carter B. (

United Kingdom

)

Outstanding

Excellent Excellent Excellent. Ben and Cat always a phone call away if you need them. And they call right back. The place had outstanding views. The bed is large and comfy. Remote location but only a short drive to amenities. Rated this place 10 out of 10. Highly recommend this accommodation

July 2021

---

Lauren O.

The lodge

I had a fantastic stay at the lodge, it is in a stunning location close to many of the main attractions skye has to offer. The lodge is very well equipped and cosy, the parking is extremely spacious. The sheep being near the property are a lovely added bonus, I would definitely stay again.

August 2021

---

Emma & Dave

Had an amazing stay here as always. We like to make our own meals which this cottage provides everything you need and more. Perfect location to get around but out the way enough to retreat to away from people, our ideal accommodation. Already booked out next stay here.

September 2021

---

Phoebe K.

Brilliant

What a fantastic stay! It's a beautiful cottage, lovely setting and close to lots of places to eat and see! We had the best stay and the bed was amazing, best sleep we've had in a long time

October 2021

---

Simon A.

Excellent

We had an excellent stay in the lodge. In particular we enjoyed the large and fully equipped kitchen, the spacious bathroom, the tv including Netflix etc and the beautiful surroundings and views from the lodge. The shading machine also proved very useful. Finally the place is very tidy.

October 2021

---

Caroline M. (

United Kingdom

)

Amazing Cosy Lifge

Had a great 4 nights. Loved the log burner, kept us so cosy. Nice bottle of wine left for us on arrival and loved the Christmas tree with lights and decorations. Had an issue with Sky tv , Ben came within 20 minutes to check for us. A huge waterfall on your doorstep, views of mountains all round. Absolutely would recommend for 2 people wanting a relaxing romantic time .

January 2022

---

Bryce F.

Had a wonderful stay

Lodge was in perfect condition, fully equipped and clean. Had a very cosy feel, perfect for winter, fire was very easy to light and felt safe. Internet connecion worked perfectly also. Thanks!

January 2022

---

Erin P. ()

Gorgeous location, perfect stay!

We absolutely loved our time at The Lodge - gorgeous location, stunning views and the perfect place to rest your head on Skye. Great walk straight out the front door to Brothers Point - we saw about 20 seals down at the beach on our first morning! The wood burning fire was perfect for cosy nights, as it was pouring rain and howling a gale outside. Great that it was pet friendly as well and allowed us to bring our wee adventure cat with us! We hope to be back some day!

January 2022

---

Gaynor B. ()

Perfect Escape

What a little gem we stayed in. Clean, decorated to high standard with everything you need supplied. The location was perfect, lovely views and even if bad weather you can just relax inside with log burner and enjoy Netflix or Amazon .

January 2022

---

Christine M. (

United Kingdom

)

Beautiful view of the stars

Well located to get to various sights though do watch out for the potholes on the drive!

January 2022

---

Kirsty H.

Perfect stay

Absolutely loved this lodge! Such a beautiful place and location, and everything we needed. I would definately recommend this place and would stay there again

February 2022

---

JOANNE B. (

United Kingdom

)

Fab place

Absolutely loved this place so warm and cosy and we had everything we needed. We will be back.

February 2022

---

Adrian S. (

United Kingdom

)

The Lodge

A cosy rustic retreat with stunning views of mountains and a waterfall. Immaculately finished interior with a log burning stove and fully kitted kitchen.

February 2022

---

Wendy S. ()

Stunning location

What a beautiful cottage in an amazing location for exploring Skye. We loved being in the cottage and it had everything we needed. Thanks for the bottle of wine and the logs for the fire!

March 2022

---

Christine R.

Dreamy location, beautiful lodge

I cannot recommend The Lodge enough, it's so cosy and has every comfortable touch of home you'd want. Beautiful location, we'll miss our morning coffees overlooking the lush green hills to the mountains and sea, with our friendly sheep neighbours. Perfectly placed for nearby Portree, but far enough away that you get the seclusion and peace you've always dreamed of. Can't wait to return. Thank you for the wine, too!

March 2022

---

Douglas K. (

United Kingdom

)

Annie & Dougie

Fabulous lodge and amazing location

April 2022

---

Dewayne D.

Great stay

A perfect location with a great view. The hike is a wonderful thing to do and what amazing views. Very clean and has all the items you will need for your stay. We had a WiFi issue that turned out to be my User error. SSA sent out Dominic to help and he was very professional and get it all up and running. Thank you for a great stay

May 2022

---

Wonderful place to stay with your own waterfall and ocean view

The lodge was a wonderful place to stay. My wife and I enjoyed two nights and really enjoyed the peaceful setting and the beautiful views. Everything worked well and the Wi-Fi was great for sending photos and a few face time calls to family. The walk down to the beach and brothers point were a nice bonus, steep hill but a short distance, trail ended right where the waterfall stream met the ocean. The sheep and their new lambs were there to greet us and always around to keep us company.

May 2022

---

Lovely place

Very pretty lodge with a wonderfull view.The staff is very efficiency and very kind (i needed a help,so i can have this opinion).

June 2022

---

Giannina M. ()

Pleasant Stay

The Lodge is located in a lovely position with far reaching views, plenty of lovely long walks from the doorstep, and thus a peaceful environment to be within. It is clean, reasonably well appointed with kitchen items but if you're a keen cook, we'd suggest you check with the hosts that they have everything you need. On arrival we found a lovely bottle of wine left out for us, and which we enjoyed that evening. We met the owner during our stay and found him to be very helpful and responsive to our thoughts and comments. Unfortunately for us it rained the entire holiday and we only wore our full wet weather gear every single day. Forget flip flops! You need good quality walking boots for this area. A car is a must as it's a good drive from pretty much everything, including the local Staffin Stores. Our dog came with us on this holiday and thoroughly enjoyed the varied terrain, walks, beaches, forests - we managed an 8-10Km walk daily. That said, if you take your dog, be prepared to have it on the lead a lot as the island, as far as the eye can see, is full of sheep. There is a very small garden around the property in which the dog can roam freely. We did encounter extensive difficulty in taking our dog into good quality places to eat - just a handful of establishments actively allow dogs in at all which was really disappointing. Whilst the sitting-room was very comfortable, we found the bed and pillows to be much less so. The bed feels super soft to lie on, however we found that it caused both of us to have poor sleep and significant back aches every morning. It absolutely would not suit someone with a back condition. The pillows themselves were lumpy and one was noted to be stained - we had not realised this until the end of the stay when we stripped the bed off for the cleaners.

June 2022

---

Carole W. (

United Kingdom

)

Perfect.

A fantastic property in a beautiful location. Felt spacious and cosy at the same time. Very well equipped and the washer-dryer is very efficient. A lovely walk down to the pebble beach, and Brother's Point (too scary for me!), right outside the front door, along with lots of sheep and beautiful views on a clear day. Comfy sofa and a huge comfy bed! My only suggestion would to consider putting a blind on the sloping roof window. Thanks for the wine.

June 2022

---
Show more