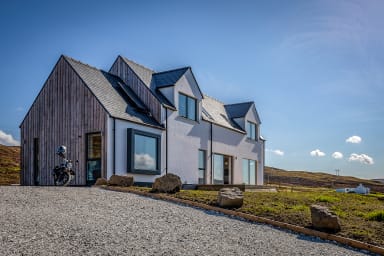 Oran Na Mara, Waternish
Holiday Home in United Kingdom, Europe
---
6

People

3

Bedrooms

4

Bathrooms

1 WC
167m²
Oran Na Mara is a stunning 3 en suite bedroom property set high on the hill of the Waternish peninsula, with stunning views over Waternis...
This 3 bedroom house is what Skye is all about. Oran Na Mara in Waternish is a newer dwelling built with comfort in mind and making the best of it's position, with incredible views to the Outer Hebrides.
The open plan kitchen and dining room give a feeling of space and the main living area is a real delight. Although it has central heating it also has a log burner that provides a sense of cosiness and solace no matter what the weather is doing outside.
Waternish is a well loved and very popular area on Skye.
There are local places to visit and Loch Bay, a Michelin Starred restaurant is 1.5 miles away, next to the oldest pub on Skye, called the Stein Inn.
If you are looking to get away from it all and enjoy a classy living space, look no further.
+ More
Less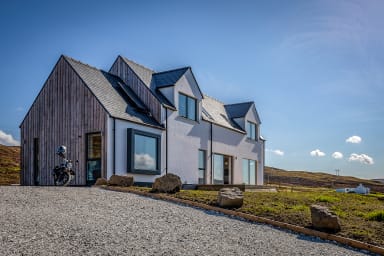 Living room with amazing views
Mountain & Sea Views, Natural Landscape
Patio with incredible views
Cozy living room with fireplace
Mountain & Sea Views, Natural Landscape
Mountain & Sea Views, Natural Landscape
Mountain & Sea Views, Natural Landscape
The Space
Accommodates: 6
Bedrooms: 3
Bathrooms: 4
Property Type: Holiday Home
Check-in: 16:00
Check-out: 10:00
---
Amenities
Suitable for children (2+ years old)

Suitable for infants (under 2 years)
Reviews
Gordon I.

Perfect in every way. (apart from the wind)

What can I say. The house was lovely, very beautiful views from the property. Everything in the house has been looked after really well. Very good directions. The one thing we were not ready for was the weather, the wind was unbelievable. We hope to return in the summer to sample Skye again. An amazing property on an amazing island.

February 2020

---

Isle of Skye

Amazing location and house with an unforgettable view!!!

July 2020

---

Nicola M.

Superb!

Couldn't have asked for anything more for our holiday on Skye. The house is cosy, fully equipped and has spectacular views from every window. We didn't want to leave!

July 2020

---

Stephen A. (

United Kingdom

)

S. Addicott

Oran Na Mara, is the beautiful house that we stayed in at after being in the UK/Europe for the past 8 years. It is such a comfortable house with lovely views. The surrounding area has some great walks and if the weather is not so kind, staying inside is equally as pleasurable. I would have no hesitation in recommending this property/location.

August 2020

---

Lovely house in a beautiful location

A great base for discovering this beautiful area

September 2020

---

Christine B.

Perfect house

Loved our long weekend here. We were spoiled with lots of sunshine which made for incredible views. The owners had thought of everything so didn't need to use any of my bring just in case bag of kitchen stuff. Skye is amazing and really loved this location - only 25 mins from Portree, 15 mins to Dunvegan so an ideal. Thanks again!

September 2020

---

Miss Emma boyle

This place was beautiful. Perfect in every way.

October 2020

---

Susan S.

Perfect house to get away from it all!

We loved our stay at Oran Na Mara. Lovely peaceful location with huge floor to ceiling windows to enjoy the changing views. Very clean with luxurious towels and bed linen. The kitchen was well-equipped and we had a cosy fire on a couple of nights. Communication was great with hosts, and we found Skye welcoming and quiet.

October 2020

---

成希 胡.

chengxi hu

very good,i want to stay here for one year

November 2020

---

Pawel T. (

United Kingdom

)

Great house for family

The house had everything you need , we felt like at our home just the view from all the windows remind us we in Skye! It was super comfortable and stylish . We enjoy great weather with no single drop of rain. We would highly recommended this house to our friends. Thank you so much !

June 2021

---

Thomas L. ()

Outstanding

We loved our stay at this property. The views & sunsets were out of this world. Property itself had fantastic views from every window. Great facilities & fittings. So close to incredible walks and nature. We would happily have stayed longer and would love to return.

July 2021

---

Emma H. ()

Honeymoon Get away

Me and my husband booked this for our honeymoon as we've always wanted to visit Skye, and this accommodation did not disappoint. Absolutely beautiful inside and the views from open plan living space were just fantastic. It is immaculately furnished and so clean. Location wise, we loved it as the Loch Bay restaurant and Stein inn were very close by and not far to drive to Dunvegan Castle and Portree for a little look around. we'll definitely be booking again.

October 2021

---

Marcel R. (

United States

)

Marcel

The staff that runs this home is incredible. Very accommodating. The house is beautiful. Very clean, incredible views. We will definitely return for another visit. Great Pub at Stein, just down the street. Ben thank you.

April 2022

---

Roslin K. (

United Kingdom

)

A home away from home

We had an absolutely wonderful time renting this gorgeous property. It was one of the most well-stocked rental homes we have ever stayed in, including towels, cleaning products, and even lovely bathing products in the bathrooms. The views were stunning and on a clear night you can stand on the decking outside and enjoy hundreds of beautiful stars. The experience with the rental manager was also excellent. Very high quality service and every request promptly responded to. They even had a bottle of wine waiting for us on arrival. Great experience. I would highly recommend this to anyone looking for a really comfortable and quality stay on the Isle of Skye.

May 2022

---

Keith B. (

United Kingdom

)

Everything I expected

Comfortable, spotless and well equipped. Could've had a few more wine glasses.

May 2022

---

Elizabeth G. (

United States

)

Top accommodation on Skye!

Beautifully appointed cottage with everything you need and more to enjoy a holiday on Skye. Exceptional customer service and attention to detail. Comfortable and bright even on a dreary day. High end appliances and a real washer and dryer! By far one of our favorite places we've stayed at.

May 2022

---

Al M

A truly unique & exceptional experience

June 2022

---

Wonderful house on a beautiful location

The house is great, although further away on the island, the views make up for everything. Some recommendations for the bedrooms and kitchen can be shared differently.

June 2022

---

Amazing!

Our family of 6 had a great time and thoroughly enjoyed our stay at Oran Ana Mara! The house is immaculate, well-designed, and comfortable. The views are incredible! Cannot recommend highly enough!

June 2022

---
Show more