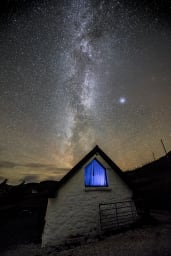 The Barn, Culnacnoc, Portree, Skye
Apartment in United Kingdom, Europe
---
6

People

3

Bedrooms

2

Bathrooms
Looking South East across the valley, over a waterfall and on the path to Brother's Point, this well equipped, large, traditional thatched roofed c...
The Barn is a great place to stay if you are looking to have a spacious quiet location.
The views are spectacular, on a clear day you can see across to the mainland and the mountains there. There is a path down to the shoreline at the end of the track which is very popular with tourists and a known beauty spot on the Island.
The Barn it's self is fully equipped. The kitchen has a dishwasher, fridge freezer, oven and hob wooden work surfaces and feels homely.
A great place for entertaining and games or for just relaxing.
There are 2 separate bathrooms so no cuing.
There is a working fire place for cosying up in the winter.
The views from the bedrooms fill you with peace. Here the world is a bit more raw, a bit more exciting and exposed.
Free WIFI, Sky TV and the towels and linen are provided for you. We have had some great feedback from guests staying here and we look forward to having you enjoy it as much as they did.
Pet Friendly - Pets are allowed in this property but they will be charged at £10 per night per pet to a maximum of 3 pets. We kindly ask if you can keep your pet off the furniture and beds for the duration of your stay. Must be crated or kenneled if left unattended, and must be on a current veterinarian approved flea & tick treatment.
+ More
Less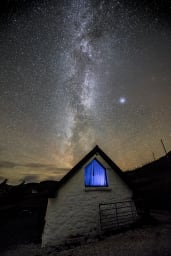 The Barn, amazing location
Cozy living room with fireplace
Mountain view, natural landscape
Mountain & Sea Views, Natural Landscape
Mountain & Sea Views, Natural Landscape
The Space
Accommodates: 6
Bedrooms: 3
Bathrooms: 2
Property Type: Apartment
Check-in: 16:00
Check-out: 10:00
---
Amenities
Suitable for children (2+ years old)

Suitable for infants (under 2 years)
Reviews
Samantha M.

Wonderful barn

Amazing location, very quaint comfortable barn to stay at. Excellent communication with Ben & John regarding our trip. Would definitely recommend anyone to stay here.

January 2020

---

Wendy W.

Perfectly peaceful and modern barn

The Barn is beautifully presented and was very comfortable for four adults sharing. We stay for three nights which was ideal to see Skye and to go for long walks in the nearby mountains. Highly recommended.

July 2020

---

Laura G. (

United Kingdom

)

Fantastic stay at The Barn

We loved every minute of staying at The Barn. The cottage is beautiful and ya everything you need to be completely self sufficient. It's also situated on the way down the the shore and has incredible views. We felt completely relaxed and at home and are already making plans to come back in the spring with friends.

August 2020

---

The Barn

We had a great stay at the Barn some great walks on the doorstep and fantastic views, we had had clear skies at night and stars were as so clear you felt you could reach out and touch them. Although set in rural Culnacnoc it is still not to far from Portree which had great variety of cafes and restaurants. We would definitely recommend staying at the Barn.

September 2020

---

Mark M.

Mark Meager

Lovely cottage clean and comfy with incredible views and easy access to many of Skye's gems

October 2020

---

Michael T. (

United Kingdom

)

Review of the Barn at Culnacnoc.

We really enjoyed our stay at the Barn. The accommodation was very good and clean. Ot was also very cosy during two days of extremely strong winds and rain. The facilities and instructions were all first class and we wouldn't hesitate to recommend it to our friends. We would certainly stay there again in the future.

November 2020

---

Jennifer K.

Jen Kerr

Just returned home from a fantastic week's stay at The Barn. The cottage is super clean, cosy and has the most incredible views. Great base for exploring the island also. We loved nothing more than coming home after a busy day of sightseeing and sitting by the wood burning stove. You feel remote as it's so peaceful but there are houses around you and it's only a 20 min drive into Portree where you'll find great restaurants or a large co-op if you'd rather do a shop and cook in the cottage. We travelled with our 2 year old who loved having the sheep as neighbours. Fabulous walk on your doorstop too taking you to The Brothers Point! If you get a clear night, the view up to the stars is impressive. We will definitely be returning in the future.

November 2020

---

Aleksandra G.

Excellent stay

We have stayed in the Barn for 3 nights. The location is excellent. The house was spotless clean. The area is quiet. There is a view of the waterfall and it is super close to 2 most iconic hikes of Skye as well as Portree. The service was great, super quick and responsive. Honestly, I would recommend it to everyone. Thank you!

May 2021

---

Dennis P.

Landon Phillips

Great stay! Walked out the door to hike to brothers point. The video tutorials on the check in tablet were very helpful. Loved the wood burning stove when the weather turned windy with rain. Great space for our family of five - close to everything, cozy and private, and the bottle of wine to greet us was a very much appreciated touch. The whole experience was wonderful…only had 2 days to stay on skye, but let us book a three day window at a 2 day rate. First class service and was the highlight of a 8 day trip through Scotland!

June 2021

---

Josh L.

The Barn, Culnacnoc - Highly Recommend

Superb accommodation right on the coast. Highly recommend for a weekend to relax and remember!

June 2021

---

Katherine E. (

United Kingdom

)

Wonderful stay on Skye

The Barn was a fantastic place to stay on Skye and to enjoy the walks in the north of the island. The property was in a perfect location at the beginning of a walk at the coast. The kitchen had everything we needed, and there was a great selection of books, games, maps, and movies as well.

June 2021

---

Room with a View

Superb cottage - in a wonderful location and with views to die for. Short walk to a lovely little bay and Brothers Point.

July 2021

---

Lorraine G.

JUST PERFECT

This property is a wee gem. Everything you could need and to a very high standard. View is perfect. A great stay had by all. Thank you :)

August 2021

---

Sandra V. ()

Perfect!

Probably one of the best, most thoughtfully equipped and beautifully located airbnbs I've ever stayed in. Little piece of paradise.

August 2021

---

Karen E. ()

Lovely barn conversion very near the sea

We are a family with 3 children and a dog, and all had a relaxing and comfy 2 days staying at this lovely barn. It was clean, well equipped, and communication with the hosts was excellent. We fell in love with The Isle of Skye and hope to be back soon.

August 2021

---

Clare P.

Cosy cottage in beautiful location

Cosy cottage tucked away in a quiet and stunning location. Really comfortable with good facilities and loads of character.

September 2021

---

Eoin J. ()

Fantastic

We had a wonderful two days staying at The Barn. Very homely and a beautiful location. It has everything you would expect to help you fell comfortable….Just open a bottle of wine and relax..

October 2021

---

GWENNAEL l. (

United Kingdom

)

Great Location

Great view, very clean and so quiet

October 2021

---

Morven S.

Morven

Such a lovely home and place to stay for a long weekend away or more, the space was perfect for our family. Loved the log fire for a cosy Winter's evening though the house was plenty warm with the heating already on when we arrived on a wild stormy night. Ben dropped off extra wood very promptly when we needed it. Beds were very comfortable and the decor gorgeous. Beautiful views and location to explore the top part of Skye, would definitely recommend a stay here.

November 2021

---

Julie L.

Amazing

We had a fantastic time in your beautiful cosy cottage. Thanks so much. xx

February 2022

---

Jennifer M. ()

Amazing stay!

This place is amazing! It's everything we were looking for-authentic Scottish cottage with modern amenities. The cottage itself is thoughtfully laid out with plenty of lounging area for us around the TV and fire (we were 4 adults and 2 kids). The beds are comfortable and the bathrooms are spacious. It has a washer/dryer combo that worked well. The actual location is what makes this place spectacular. When you walk out your door there is nothing but beautiful vistas between you and the sea (as well as some friendly sheep). I've just left, and I already want to go back

March 2022

---

George M. (

United Kingdom

)

Loved our stay at The Barn

We had a great time visiting Skye and taking our time exploring the island during our 4-day visit. The Barn is a great place to relax and the log burner fire added to the charm and atmosphere in the evenings. We couldn't use our mobile phones inside the cottage most likely because of the very thick walls, but we had a very good reception outside in the garden. The internet was good and the TV had an excellent reception too. The cottage is well-equiped with everything you will need to make your stay relaxing and comfortable. It is warm, clean and very charming in a modern, yet old-worldly kind of way. We felt so relaxed from start to finish.... it was just what we needed. Loved our stay at the Barn and loved visiting the island. We didn't want to leave and really had to tear ourselves away! It's been a long time since we've left a place with a heavy heart knowing we would miss it, but you have to return to normality I guess. Highly recommend The Barn for a tranquil, comfortable and charming base in which to view the beautiful island of Skye.

March 2022

---

Beautiful barn and location

Fabulous barn conversion. Well appointed and thick walls to keep you warm on a cold rainy day. Beautiful location with seals in the bay below. Highly recommend

May 2022

---

Sherlyn L. ()

Charming and cozy home in the midst of a breathtaking setting

We loved this cosy home were we could retreat after walking and sightseeing. The Barn is well equipped and location isn't too far from Portree where we could access amenities.

June 2022

---

Charles M. (

United States

)

Great stay

Wonderful location and house.

June 2022

---

Dharmashantia S.

Tia

Quick response and a good property to be staying at!

July 2022

---

Joan C.

Perfect getaway

We have enjoyed our stay at the Barn very much. The lovely property with stunning view and lot of sheeps as neighbours. Highly recommended.

August 2022

---

Wonderful view in this lovely and quiet cottage

Big cottage (3 bedrooms and 2 bathrooms) Quiet and peaceful with a wonderful view ! Perfectly clean and confortable

August 2022

---

Margaret L.

Wonderful

The Barn at Culnacnoc was exactly as presented on the website. Beautiful, peaceful, well-stocked kitchen, comfortable beds. Excellent overall experience. Loved looking out the front door with my morning cup of coffee, watching the neighboring sheep. The walk to Brother's Point at sunset time was fabulous. The location was perfect for many of the nature viewing and hiking. We will recommend highly.

August 2022

---
Show more