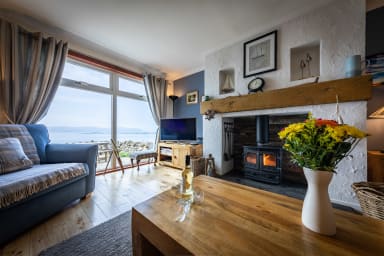 1, Dunhallin Ard is a 3 bedroom property set back on the Waternish peninsula with stunning views over to the North Uist and the island of Isay.
This 3 bedroom house is what Skye is all about. Dunhallin Ard is an old croft house that has been extended.
The open plan kitchen and dining room give a feeling of space and the main living area is a real delight with the fire and a whisky and the stunning views, you will feel like you have escaped.
Enjoy Sky Cable in the lounge, or watch shows from your Smart TV in the bedroom. It has a fully equipped kitchen with American Style Fridge Freezer.
Relax for a soak in the whirlpool bath in the main bathroom!
Waternish is a well loved and very popular area on Skye.
There are local places to visit and the only Michelin Starred restaurant on Skye is 2 miles from this location next to the oldest pub on Skye, called the Stein Inn.
Pet Friendly - Pets are allowed in this property but they will be charged at £10 per night per pet to a maximum of 3 pets. We kindly ask if you can keep your pet off the furniture and beds for the duration of your stay. Must be crated or kenneled if left unattended, and must be on a current veterinarian approved flea & tick treatment.
+ More
Less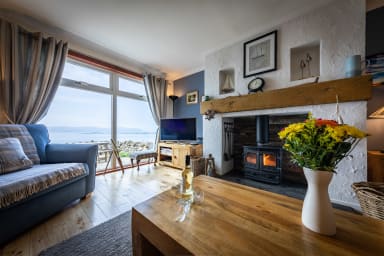 Bedroom with amazing views
Mountain & Sea Views, Natural Landscape
Lounge corner comfy seats
Rocking chair in kitchen corner
The Space
Accommodates: 6
Bedrooms: 3
Bathrooms: 2
Property Type: Apartment
Check-in: 16:00
Check-out: 10:00
---
Amenities
Suitable for children (2+ years old)

Suitable for infants (under 2 years)
Reviews
Fantastic

Amazing house & such a special location. We had a lovely time. I highly recommend xx

July 2020

---

Erica W.

Lovely stay in Waternish

The cottage is wonderfully cosy and beautifully situated with an amazing view over the water. It is in a remote and tranquil location, but easy to navigate from Waternish all over the island to the keys sights and hikes. Closer by, there are great trails and roads for running and cycling from the doorstep. The cottage is extremely well maintained with modern appliances. We are eager to come back again!

August 2020

---

Catherine S. (

United Kingdom

)

Catherine

Fantastic accommodation in a wonderful location. Thanks

October 2020

---

Craig V. (

United Kingdom

)

Beautiful home in stunning location

We stayed in this gorgeous home for three nights. The house is fully equipped, like a home from home and immaculately clean. You can tell a lot of thought and consideration has went into the decor. The hosts were excellent at communicating and ensured we had everything we needed. There is a beautiful view out across the water. We would 💯 go back thanks for a great stay.

October 2020

---

Samantha B. (

United Kingdom

)

Very nice

Cozy clean well equipped

November 2020

---

Victoria M.

Beautiful views

Had a great stay, the views are stunning and cottage is very comfortable. Very attentive to our needs. Thanks for a lovely stay!

May 2021

---

Isobel B. (

United Kingdom

)

Dunhallin Aird

We throughly enjoyed our stay in this lovely house. The views were stunning! Great location. The house was very warm and very well equipped. All rooms were very clean with lovely linen on the comfortable beds. Great fire pit to keep the midgie away! Lovely place for a family holiday.

May 2021

---

Louise W. ()

Mrs Louise Williams

Many thanks for a lovely stay we had five nights celebrating our daughters 30th birthday. The cottage was beautifully decorated and fully equipped.The only thing I might add is a glass measuring jug to make porridge in the microwave and mattress toppers for the beds as my husband and I felt the buttons of the mattress and the springs through the sheets. We really appreciated the large disposable bbq after mentioning to you we hoped to bbq during our stay. Stunning location with spectacular views not for people without a car as a wee bit away from things but would definitely recommend and would stay again.

August 2021

---

Lindsey H. (

United Kingdom

)

Stunning location, lovely place to stay

Extraordinary location and very comfortable place to stay

September 2021

---

Helen S. ()

Superb!

What a wonderful few days we had. Home is perfect and has everything you should need/want. We enjoyed fantastic sunsets, star gazing with the supplied telescope and met the local Highlander cows! The house is wonderfully decorated and looked after, and after a day of driving around the sights this Mama truly appreciated the bubble tub!! 🥂 Have recommended to all our friends! Thank you so much!

October 2021

---

Lindsey B.

Dunhallin Ard

This is the fourth time we have used Skye Serviced Accommodation and will not hesitate to return again with them next year. Their is a high level of customer care and communication before you arrive, and while you are at one of their homes, but not to the point of intrusion. The homes, (they are more than holiday houses), are furnished and equipped to a high standard, and upon arrival you immediately feel relaxed and ready to tackle Skye! We have stayed at Dunhallin Ard four times in all and once at the View in Sleat, both to which we will return again, hopefully soon. Thank you SSA and all the staff. Lindsay and Trina Brunton

October 2021

---

Malcolm C. (

United Kingdom

)

Dunhallin Ard - November

Had an amazing stay at Dunhallin Ard which provided the perfect base to explore Skye. Would thoroughly recommend to anyone wanting modern, clean and extremely comfortable accommodation in a traditional highland setting. Can't wait to get back! Amazing.

November 2021

---

Gillian M. ()

Comfortable Cottage Excellent Location

Lovey cosy place to stay, in an excellent location. We had a minor problem with some cleanliness issues that were quickly sorted to our satisfaction. Very good hosts.

January 2022

---

Valentina L. ()

Wonderful

Wonderful location, stunning view and a very welcoming and confortable stay, everything was just perfect! We will be back soon!

February 2022

---

Patrycja B.

Amazing views and beautiful cottage

Super holidays! Amazing cottage with everything you want and more! Love to come back!

February 2022

---

Chris P.

Beautiful cottage

This is a beautiful, warm cosy cottage in a remote part of Skye. If you want to get away from it all but in comfort this place is perfect. There are loads of walks and the views are stunning. Highly recommend this place.

February 2022

---

Emily M.

Beautiful

Beautiful views from the property, very spacious and cosy inside with lots of lovely touches.

March 2022

---

Samuel U. (

United Kingdom

)

Stunning stay

Stayed here for 4 nights . Absolutely would recommend to anyone!. Very cosy and warm inside

March 2022

---

Thorold s.

Mr T Shilliday

We had a terrific time- the cottage was excellent, very relaxing, with beautiful views

April 2022

---

So much fungrom perfect starting point

This is the place to start your daily trips on Skye! Marvellous! Lovely!! Cosy!! Superb!! In every way!!!!!

May 2022

---

Magical Memories Made on Skye

Dunhallin Ard had everything we could have asked for and more. I greatly appreciated the communications before arrival and the ease of finding the rental. We felt the wonderful seclusion of the cottage but also felt we had all of our needs met. An added bonus was that gorgeous nature could be seen from every window. We took advantage of the fantastic kitchen for cooking, enjoyed the cast iron stove, sitting outside, and ping pong table. Everything was just perfect for our stay.

June 2022

---
Show more